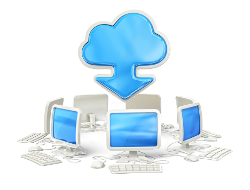 Service organizations are increasingly faced with challenges providing automated tools for their mobile workforce that support business processes. Often, these are businesses that cater to people needing services and supports delivered and documented in their own home.
CIM Inc. has refined tools for automating and supporting portable case management and assessment collection systems, with nearly ten years of "in the field" experience.
We can deliver a combined user experience – on-line web-based tools
when users have Internet connectivity and companion off-line browser-based tools when no connectivity is available. Without re-learning any new interfaces, users have the option to work with their Windows-based laptop or tablet computer in either modality. Stress is reduced (and productivity is increased) when workers need not worry about the reliability of in-home WIFI connectivity to complete assigned tasks.
Our sophisticated synchronization technology eliminates the disruptive practice of "checking out" (and locking from other's use) centralized case records, which foster greater collaboration and information sharing practices for improved services.
These solutions are available as separately hosted solutions. Conversely, they can be directly imbedded within and integrated with existing IT platforms and operations for a seamless user experience.